Commando Comic Launches First Graphic Novel 'Ramsey's Raiders'
November 21, 2018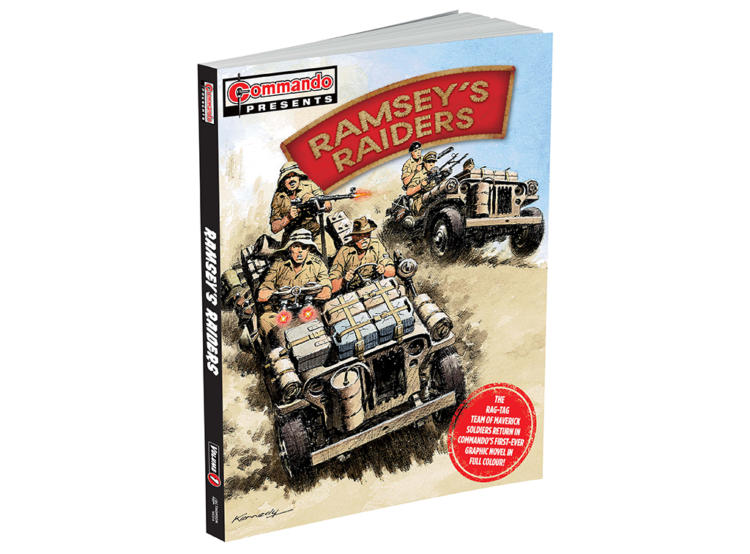 Commando Comic presents a full colour graphic novel for the first time in its 57-year history with 'Ramsey's Raiders' comic series.
Published since 1961 by DC Thomson Media, Commando is Britain's longest running war comic. The graphic novel brings together the first two Raiders issues; #3854 'Ramsey's Raiders' and #3861 'The Raiders Return!', revitalising the issues from their original black and white pocket-sized interior artwork with explosions of colour. However, the classic story of Captain James Ramsey and his rag-tag team of maverick yet skilled soldiers operating behind enemy lines and taking on the toughest missions will remain the same.
The 136-page special collection edition includes a foreword from Ramsey's co-creator and writer, Ferg Handley, alongside the classic Ian Kennedy covers and Keith Page's original comic artwork.
Today, graphic novels are more popular than ever with readers of all ages from all over the world. The art form gained particular notoriety this year when Nick Drnaso's 'Sabrina' became the first-ever graphic novel to be longlisted for a Man Booker prize. It is expected that the revitalised 'Ramsey's Raiders' will appeal to a new, contemporary audience as well as loyal Commando fans.
The graphic novel also sees the return of prolific war comic writer Ferg Handley after a year's absence. Handley will pen more weekly issues, starting with #5197 'Ramey's Raiders: Race Against Time' which will be available in shops from January 24th. With over three-hundred Commando titles under his belt and twenty-three years' experience writing for Commando, Handley was thrilled to be involved in the first two issues of his fan-favorite series 'Ramsey's Raiders'.
Ferg Handley said, "Of all the characters I've helped to create for Commando, Ramsey's Raiders are most definitely my favourite. Each member of the team has a strong identity, which makes their interactions – on and off the battlefield – a joy to write".
"Their exploits and adventures were also a way of paying tribute to the original S.A.S. of World War Two, a force which was truly unique in its day.  So it's great to see Jimmy Ramsey, Fitz, Monty et al brought to life in glorious colour within the pages of this new collection".
The 'Ramsey's Raiders' graphic novel is available to buy from all good retailers and DC Thomson Shop for £14.99.