DC Thomson Nods to Its Shipping Heritage
January 3, 2019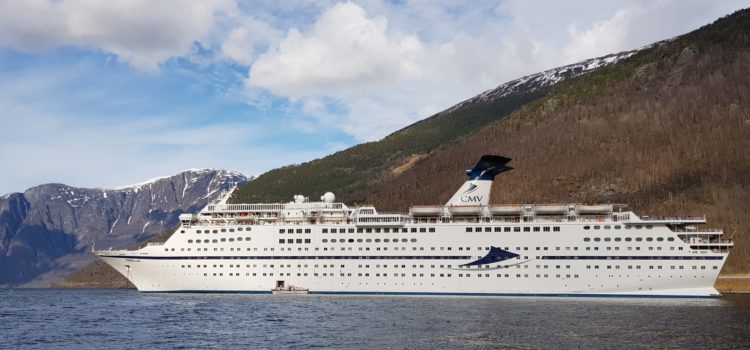 DC Thomson Travel, the reader travel division of DC Thomson Media, is working with Cruise & Maritime Voyages to offer an exclusive cruise on the Magellan to its customers.
This partnership sees DC Thomson Travel joining forces with Cruise & Maritime Voyages to sail the Best of Norway and Scottish Islands tour in the summer of 2020.
This foray in to maritime transportation is not a first for the Thomson family, as they owned a Shipping Line in the 1800's.
The Thomson Line shipping fleet started with a single modest sailing ship, growing to encompass numerous vessels including steamships, transporting cargo all over the Mediterranean and Canada.  Wine, fruit, coal and latterly cattle were regular cargoes for the ships.
The House Flag used by the Thomson fleet is one of the oldest shipping house flags in Britain.  Known as the 'Blue Checker' or 'Betsy Norrie' the blue and white flag is flown from the headquarters of DC Thomson in Dundee to this day.
Andrew Thomson, Chairman of DC Thomson, said, "It's wonderful to see DC Thomson realigning with its heritage by returning to the seas.  When William Thomson established the Thomson Shipping Line in the 19th century I'm sure he didn't contemplate that over 100 years later DC Thomson would be transporting passengers by ship around the Scottish Isles and Norway.  This kind of diversification of the business is a great fit for DC Thomson."
With an occupancy of over 1300, the Magellan is set to deliver a one off cruise itinerary to passengers looking to see the best sights in Norway and the Scottish Isles.
Setting sail from Dundee on 14th June, 2020, this one off 9 night Best of Norway and Scottish Isles Cruise will take in sights including Flam, Bergen and Portree.
Craig Houston, Head of Enterprise for DC Thomson Media, said, "Working with Cruise & Maritime Voyages to bring this highly desirable sailing route to DC Thomson Travel customers has been a pleasure.  We're excited to be offering such a special route with a trusted partner and we can't wait to hear what our passengers say about this amazing trip."