Bash Street Kids: The Class Every Teacher Dreads for 65 Years
February 13, 2019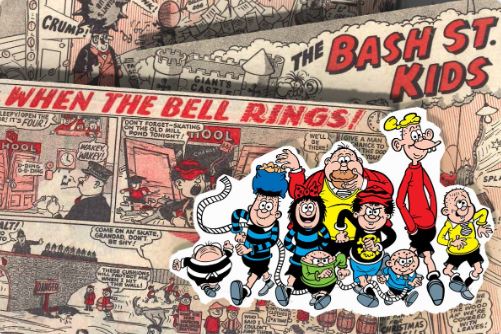 The Bash Street Kids, Beano's famous gang of mischievous and naughty school kids, turn 65 years old today.
The kids first appeared in the comic in 1954 in a strip originally called 'When the Bell Rings', created by Leo Baxendale. It then became known as 'The Bash Street Kids' two years later, with David Sutherland taking over as artist in 1962. Remarkably, David is still the Bash Street Kids artist today.
Since then, Class 2B, otherwise known as "the class every teacher dreads", have caused chaos and trouble for the Bash Street School in Beanotown. Inspired by the children from Dundee High School, Danny, Fatty, Plug, Sidney, Toots, Smiffy, Spotty, Wilfred and 'Erbert are instantly recognisable characters for many generations of readers of the comic.
And to mark their 65 years, the rowdy group have taken over the entire latest issue of Beano, including the cover, the first time they have appeared as Beano cover stars in decades, and infiltrated every strip. They have even spilled out of the comic into a new Bash Street Kids video game, which is set to go live in a few days on Beano.com.
There is also a nationwide campaign to find a class funnier than the Bash Street Kids. Beano are asking teachers to send in their pupils jokes in order to be crowned Britain's funniest class.