The Scots Magazine Marks 280th Anniversary
February 25, 2019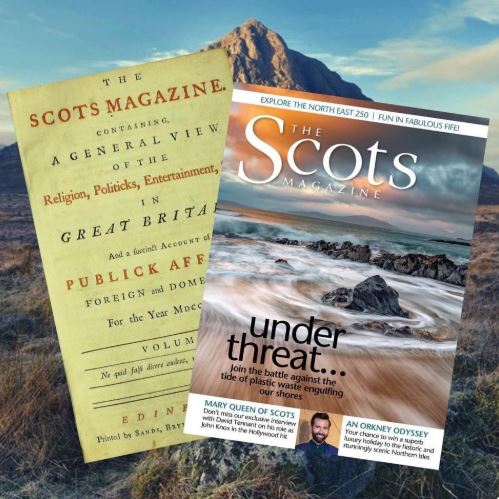 The Scots Magazine has celebrated 280 years since the very first issue was produced, making it the oldest magazine in the world still in publication.
The first edition of the magazine, now published by DC Thomson Media, was issued in February 1739, and has reported on key historical events throughout its history. These include eye-witness accounts of the Battle of Culloden in 1746, a report from the Battle of Waterloo in 1815 written by the Duke of Wellington, and continuing right up to the creation of the new Scottish Parliament in 1999 and the 2014 Scottish Independence Referendum.
Notable contributors include Sir Walter Scott, Robert Burns, whose 6-page obituary was published by The Scots Magazine in1796, James Boswell and John Witherspoon, who was later one of the signatories of the American Declaration of Independence.
Today, The Scots Magazine continues to be the world's best-selling Scottish interest title. It celebrates the very best of Scotland, from the country's thriving cities, to the great outdoors, history, nature and culture – all complemented by stunning photography.
The magazine recently won two awards at the PPA Scottish Magazine Awards 2018. Editor Robert Wight won Consumer Magazine Editor of the Year for the second time, and the magazine also won the Best Use of Social Media award – testament to the effective way in which The Scots Magazine has re-invented itself in the digital age.
Editor Robert Wight said, "Founded in 1739, we believe The Scots Magazine to be the oldest magazine in the world still in publication.
"It's a remarkable magazine, a piece of 'living' history that pre-dates Culloden and was already more than a century old by the time Victoria ascended the throne.
"It's an honour and a privilege to lead the team responsible for such an important piece of Scotland's cultural heritage and whose incredible work ensures The Scots Magazine continues to thrive in the digital age."
To mark the outstanding mile-stone, the magazine will be hosting a Spring Photography Workshop with photography expert Keith Fergus in May, as well as some special features throughout the year.
In this month's issue Cameron McNeish, Scotland's top outdoors writer and regular contributor to The Scots Magazine, explores Torridon's magical Corbett, Beinn Damh. You can also read an exclusive interview with actor David Tennant, and take the terrific track from Glasgow to Stranraer in the latest Great Scottish Railway Journey feature.
The Scots Magazine is available from all good retailers and online.