DC Thomson Media Launches Second Issue Of Hit Magazine This Is Miraculous
April 24, 2019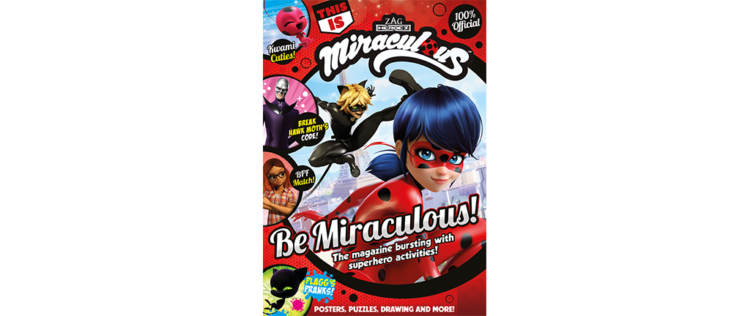 Bulldog has announced that DC Thomson Media has launched a second issue of This is…Miraculous magazine, which is based on ZAG HEROEZ Miraculous™, Tales of Ladybug & Cat Noir.
ZAG HEROEZ Miraculous™, Tales of Ladybug & Cat Noir is the smash-hit show from kids' entertainment specialist ZAG. The series' second season is dominating the kids' TV scene in the UK, where it is the No. 1 girls' show on Disney Channel, and soon to air on Pop (where it is simulcast). Season one is now available on Netflix globally and is performing as one of their top three kids' shows, whilst an animated movie is in the pipeline. Over twenty-five licensees are now on the market across a wide range of categories with soft lines proving particularly popular, topping sales charts in fashion retailers.
'This is…Miraculous' magazine is a fan's dream that's bursting with awesome games, quizzes, posters, puzzles and lots of make and do – plus six free gifts!
DC Thomson Media is just one of the major licensees to have signed up for the hit brand with the programme covering a multitude of categories – including toys, stationery, gifting, greetings, plush, dress-up and many more.
Lindsey Chester, Retail Licensing Manager at Bullgos, said, "ZAG HEROEZ Miraculous™, Tales of Ladybug & Cat Noir is an extraordinary brand that captures the current zeitgeist of girl power.
"The first issue of 'This is…Miraculous' magazine flew off the shelves last year, showing there is huge demand for the brand.  We are delighted DC Thomson Media is launching another issue for fans to enjoy."
This Is…Miraculous magazine is on sale now.