Join The Goo Crew With Slime Factory Magazine!
July 17, 2019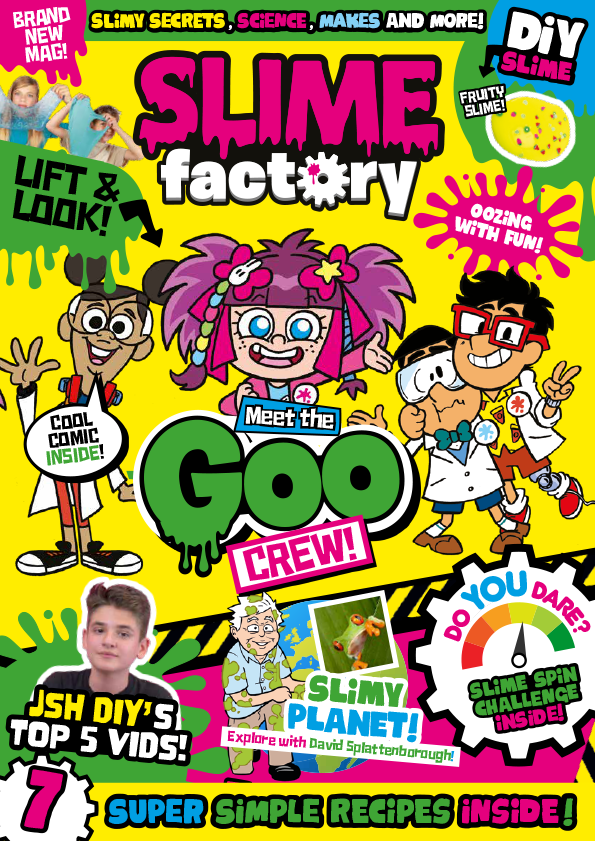 If your little one loves all things slime, then they'll love Slime Factory magazine, a brand-new magazine from DC Thomson Media.
Slime Factory is a 36-page gender-neutral magazine aimed at kids aged 7-11 years old. It's oozing with easy-peasy slime makes, cool slimy science, fun puzzles and quizzes, and so much more!
Readers can join KT, Rosa, Newt and Zak – AKA the Goo Crew – in their own comic strip every issue, for hilarious, slimetastic adventures in the lab! Kids will love learning all about nature with national treasure, David Splattenborough, and discovering how to draw the planet's slimiest animal!
Easy-Peasy Slimes!
Kids and parents alike will love the simple step-by-step recipes inside the mag. Most of our recipes are relatively mess-free, too – and especially fun to make outdoors!
DIY not your thing? No worries! Every issue comes with free slime and exciting accessories to enjoy!
Science Behind The Slime!
Slime Factory is all about having fun whilst also educating kids on the cool science behind making slime. Join Newt and the Goo Crew in the lab to create shape-shifting slime and carry out your own fun experiments!
ASMR
With the phenomenon of the relaxing qualities slime can have on kids, Slime Factory includes lots of amazing recipes designed to calm and focus the mind, such as spaghetti slime and satisfyingly crunchy slime.
Sian Dolan, Editor of Slime Factory, said, "Slime Factory is a fun-filled magazine for kids who LOVE all things slime! Every issue is designed to excite and ignite imagination – we've pulled together the simplest, coolest slime recipes for readers to try at home and included a splattering of science and nature. When kids have finished trying the slime makes, they can still get creative with design challenges, fun puzzles and quizzes!"
Slime Factory is available to buy from all good retailers and at through DC Thomson Shop.