Discover Scotland's Legendary Bard with The Ultimate Guide to Robert Burns
January 22, 2020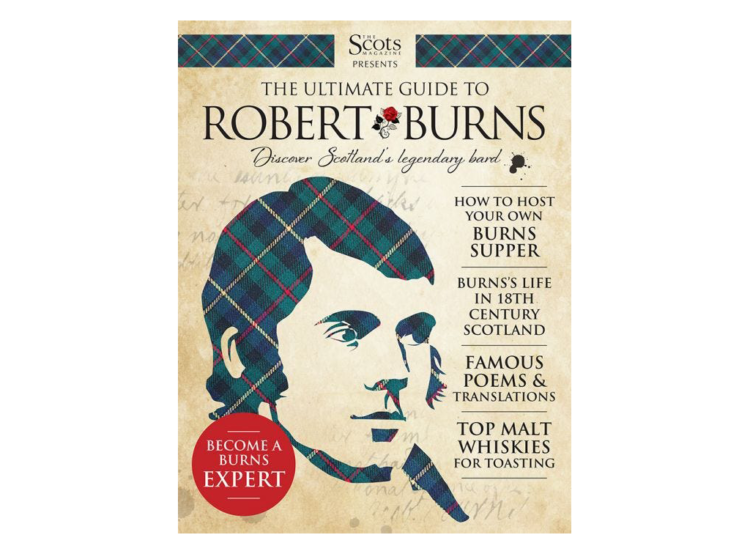 You'll find everything you need to know about Scotland's National Bard in The Ultimate Guide to Robert Burns, brought to you by the world's oldest magazine still in publication, The Scots Magazine.
Celebrate the humble Ayrshire ploughman who became one of the world's best-loved writers in this 148-page glossy bookazine, featuring more than 20 poems and songs from the 18th century poet.
Find out what life was like in 18th century Scotland, read Burn's first draft of Auld Lang Syne and learn how to host your own Burns Supper on 25th January with recipes, a guide to addressing the haggis and how to pick the perfect dram.
You can also discover Burns's lesser-known poems, gain insight into his political writings, and find out how his work gained global appeal in New Year celebrations, Burns Suppers and memorial statues to the bard across the world.
Robert Burns was born in 1759, just 20 years after The Scots Magazine was first published. Amazingly, Burns even contributed to the magazine, and his six-page obituary was published by The Scots Magazine in 1797 alongside the bard's self-penned epitaph. Indeed, the magazine was one of the first to review Burns's works in 1786 – and you can read both the review and the epitaph in The Ultimate Guide to Robert Burns.
Robert Wight, Editor of The Scots Magazine, said, "Burns is one of the most well-known poets in the world, but there's still so much to learn about him. Through our archives we've discovered more about the man behind the words and we're excited to share these findings in The Ultimate Guide to Robert Burns. It's a fantastic guide to Scotland's National Bard."
The first edition of The Scots Magazine, now published by DC Thomson Media, was issued in February 1739, and has reported on key historical events throughout its history. These include eye-witness accounts of the Battle of Culloden in 1746, a report from the Battle of Waterloo in 1815 written by the Duke of Wellington, and continuing right up to the creation of the new Scottish Parliament in 1999 and the 2014 Scottish Independence Referendum.
Today, The Scots Magazine continues to be the world's best-selling Scottish interest title. It celebrates the very best of Scotland, from the country's thriving cities, to the great outdoors, history, nature and culture – all complemented by stunning photography.
The Ultimate Guide to Robert Burns is available online.