Shout Magazine Launches 'Feel Good Guide' Free Download
May 12, 2020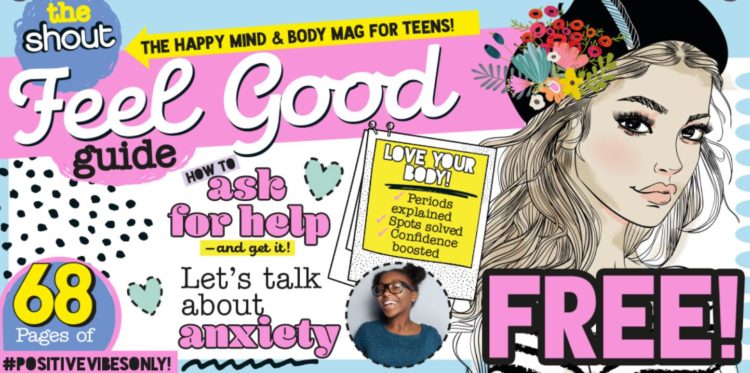 In these uncertain times, it's more important than ever to make young people feel safe, secure and happy.
Life as they know it has changed, with enforced time apart from their friends, the pressures of home-schooling and the feelings of isolation lockdown has brought.
To help teens and young people through these tough times, Shout magazine is offering its Feel Good Guide as a FREE download.
The happy mind and body magazine aims to inspire, empower and boost the confidence of its readers, predominantly girls aged 10-14.
It offers a supportive, encouraging voice whilst tackling issues affecting teens with empathy, humour and practical advice.
A new survey revealed that more than 80% of young people with a history of mental health problems found their conditions had worsened since the UKs coronavirus outbreak.
Carried out by mental health charity YoungMinds between March 20 and 25, the survey of more than 2,000 people under 25, found that social isolation and the loss of routine were the biggest influencing factors.
Of the 83% who said the crisis had made their mental health worse, 32% said it was 'much worse', while 51% said it was 'a bit worse'.
Editor of Shout, Louise Kettle, said the free downloadable issue aims to offer solace to young people struggling to deal with the current situation.
She explained, "We created The Feel Good Guide with the goal of helping readers feel happier, more positive and confident enough to take on anything. This ethos has now become more significant than we ever imagined during these times. Making the magazine available for free is our way of offering support to as many readers as possible; a virtual 'we're here for you'."
Content in the Feel Good Guide includes tips on mindfulness and self-care, as well as guidance on how to seek help when needed, and examples of inspirational celebrities such as Little Mix, Katie Piper and Millie Bobby Brown. The aim of the magazine is to act as a handbook, covering everything from mindfulness to periods, anxiety and the importance of getting a good night's sleep.
In publication since 1993, Shout is the must-read magazine for girls aged 10-14, combining fun celebrity, fashion and beauty content with feel-good advice on teen issues. As the mag that's got their back, every page aims to leave readers feeling happier about themselves and their world.
To download the Feel Good Guide for FREE, visit: https://www.shoutmag.co.uk/fgg/