Important Safety Withdrawal Notice
June 3, 2020
The Official Jacqueline Wilson Magazine #172
Product Withdrawal
Price: £4.99
Approximate Sale Date: 27th May 2020 – 8th July 2020
Barcode: 9772042778971
What's happened?
We have recently become aware of a potential safety issue with the Keychain Charm, one of the gifts that comes with issue #172. We have identified a risk of breakage where the charm may split in two which could result in exposed metal edges and present a safety risk.
This item was tested and found compliant with all relevant legislation including BSI EN71.
However, we take our readers' wellbeing and satisfaction very seriously and so we are withdrawing all copies of The Official Jacqueline Wilson Magazine Issue #172 due to the identified safety risk.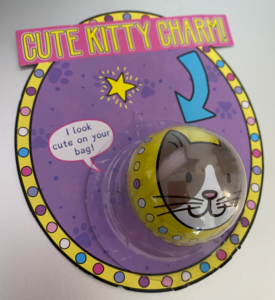 What you should do?
If you have purchased this issue and are in possession of the Keychain Charm, please stop using the product and remove it from the reach of children to prevent any risk.
You can return the Keychain Charm from issue #172 by requesting a pre-paid, stamped addressed envelope from DC Thomson Media. We will re-issue you with an alternative cover mount gift.
Address:
The Official Jacqueline Wilson Magazine
Issue #172
DC Thomson Media
2 Albert Square
Dundee
DD1 1DD
Email: communications@dctmedia.co.uk
Please note that this withdrawal only applies to the product described above.
If you have any questions, please contact us on the details above.
We thank you for your co-operation and apologise for any inconvenience caused.