The People's Friend calls upon the nation to knit for its UK bus tour
August 19, 2020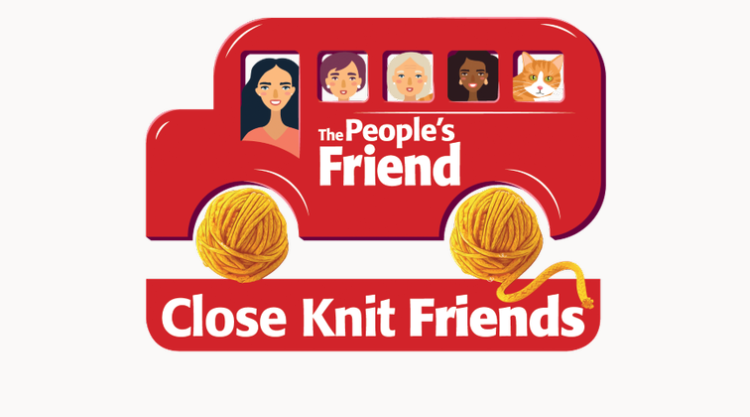 The People's Friend is partnering with Stagecoach and charity Re-engage, inviting the nation's knitters to spread joy
A yarn-bombed bus will tour the streets of Britain in September 2020
The weekly women's magazine is looking for knitted donations to add to its bus which will be adorned in colourful yarn 
The People's Friend launches new campaign 'Life is better when shared with a Friend'
As life slowly begins to return to normal for many of us, a large proportion of the UK's population will continue to face restrictions or adjustments to daily life. And so, to put a smile back on the nation's face, The People's Friend is taking a colourful yarn-bombed bus to the streets – and the magazine is calling on people of the UK to help adorn it with their own knitting! 
In partnership with Re-engage, a charity that is committed to fighting loneliness, the colourful knitted bus will hit the streets in September 2020, delivering a warm dose of friendship to everyone who sees it. Whether it's those who may still be staying close to home, socially distancing or simply going about daily life with more caution than before, the bus is sure to raise a smile. 
But before the bus hits the streets, The People's Friend, which celebrated its 150-anniversary last year, is calling on the knitters of the UK to send a triangle of bunting that will be added to the bus, as a collective message to people of the UK to show we're thinking about them. 
Working with national public transport provider, Stagecoach, and crochet designer and urban knitter, Emma Leith, the bus's design will embrace the trend of yarn bombing and will be adorned with friendly crocheted faces, delightful pom poms, brightly coloured squares and rows of bunting submitted by the public. In addition, the bus will be delivering free copies of the magazine to selected locations. 
Those looking to get involved can download either a knitting or crochet pattern to create their own triangle of bunting from The People's Friend website. Knitted donations can be sent to The People's Friend, White Cottage, Devizes Road, Box, Wiltshire, SN13 8DY by 12th September to be included. 
For any non-knitters looking to show their support the magazine is also raising funds for Re-engage's new telephone befriending service 'Call Companions', which was launched in response to Covid-19. It offers free, friendly and regular calls to ensure that those most vulnerable to isolation due to COVID-19 remain connected to the outside world. 
Angela Gilchrist, Editorial Director of The People's Friend, said: "In our 150-year history, 2020 has been one of the hardest, in particular having to stay away from family and friends.  But The People's Friend is always there to provide friendship in times of trouble. 
"This year, we want to go the extra mile, literally, and thanks to Stagecoach, we will bring the fun and friendship found in the magazine to the streets of Britain, with our very own yarn-bombed bus. 
"We'd be delighted if the public want to contribute, either by knitting a triangle of bunting which will be added to our bus, or with a donation to our wonderful charity partner Re-engage, which will support those who have been facing isolation even before the world went into lockdown. 
"Life is better when shared with a Friend and we want to offer a hand of friendship and raise smiles across the UK." 
Re-engage CEO, Meryl Davies, says: "Many people have really suffered with feelings of loneliness and isolation through this crisis and it's not over yet. The situation can be incredibly confusing and frustrating as well as frightening. The prospect of social clubs and activities for people over 75 opening up anytime soon looks unlikely and this is leaving thousands of people bored, anxious, and lonely. 
"We're delighted to be working with The People's Friend to raise smiles across the UK.  All of the money raised will go to fund our Call Companions service. Our volunteers are genuinely interested in raising smiles and chatting to older people about things like gardening, books or just the day to day. We pair people up thoughtfully and carefully so the conversation flows. It's a great way to make a new supportive friend and give yourself some comfort to help you through this difficult time." 
Martin Griffiths, Chief Executive of Stagecoach, said: "Buses are a real lifeline for people up and down the country, particularly the most vulnerable, and they help bring friends, families and communities together. 
"We're really pleased to be supporting this new project. We know that the biggest thing people have missed in recent months is that human contact and togetherness, and this fantastic initiative will literally see the nation's knitters and our buses join up Britain." 
The People's Friend Yarn-Bombed Bus will be on tour in September 2020. For the bunting pattern, tour updates and to nominate a street for the bus to visit, head to The People's Friend website and social media channels.  
To donate to Re-engage, please visit www.reengage.org.uk/donate. 
To download the knitting or crochet pattern for the triangle bunting, click the links below. 
#CloseKnitFriends 
https://www.thepeoplesfriend.co.uk/ 
https://www.facebook.com/PeoplesFriendMagazine/ 
https://twitter.com/TheFriendMag