The Sunday Post Flies the Flag for Scottish Newspapers at The Society of Editors' Press Awards
March 10, 2021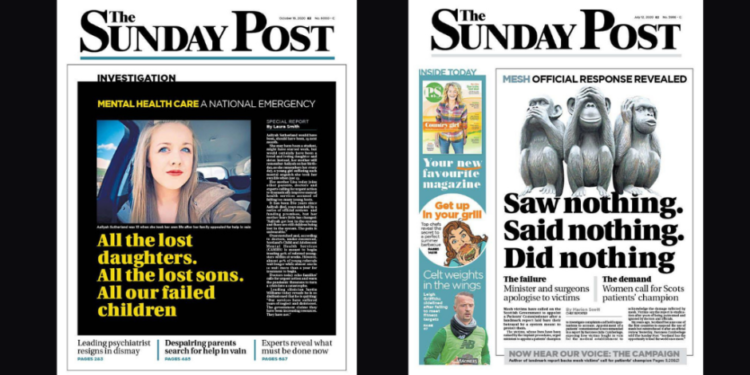 The Sunday Post has been shortlisted at the prestigious UK National Press Awards for its campaigning journalism.
Led by Chief Reporter Marion Scott, the Hear Our Voice campaign calling for the appointment of a Scottish Patients' Champion has been shortlisted for Campaign of the Year. The campaign, which was also shortlisted in the British Journalism Awards, was launched in the wake of a damning report by Baroness Cumberlege into how women damaged by mesh implants and other treatments were failed by the health system and their voices silenced.
In August, the Scottish government announced a Patients' Safety Champion would be appointed as Baroness Cumberlege's review team hailed the campaign as "journalism at its best. Vitally important, well-researched, and powerfully written."
Another investigation by senior writer Laura Smith into failing mental health care for young Scots has also been shortlisted for the Hugh Cudlipp Award. The special report provoked ministerial pledges of funding and action.
The Sunday Post is the only Scottish newspaper shortlisted in the Society of Editors' Press Awards, considered the Oscars of British journalism, to be held digitally at the end of the month.